What Makes Our Services Unique?
Firstly, because we walk the talk of  change. We, ourselves, have made a deep commitment to continuous growth and development and hold each other accountable for continuing on that path. Secondly, we recognize that 'best-in-class' is no longer good enough.   This drives our passion for leading-edge methods, processes and tools.  Among these is our use of the Integral Coaching® Method which has been acclaimed as one of the most comprehensive holistic approaches to helping leaders transform to a new level of performance.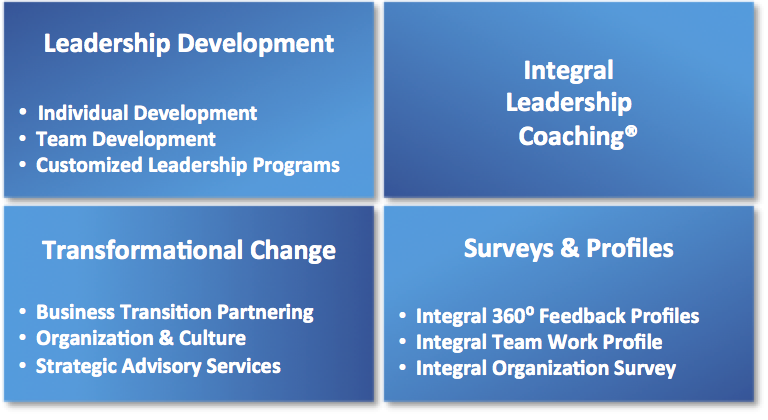 Central to many of our other proven services is the application of the Integral Leadership and Management Framework developed by Dr. Ron Cacioppe  after reviewing 30 years of research on leadership and management.  This Framework grounds our distinct methods, processes and tools, including:
Integral 360° Leadership & Management Profile — A feedback process for personal and professional development
Download Brochure (pdf)
Integral TeamWork — A process for building highly effective teams
Download Brochure (pdf)
Integral Organization Survey —  A tool for assessing organizational performance and navigating developmental transformation
We believe we are uniquely positioned to help you and your organization breakthrough to a new level of performance.