"We don't see others as they are … we see others as we are"    
Anais Nin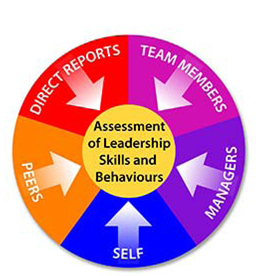 Our Integral Leadership 360° Feedback process supports development in a manner that aligns individual, team and organizational goals and direction. We keep the focus on what is best for the individual and the organization such that performance is enhanced for both. This is why we also provide Executive Coaching support with our Integral Leadership 360° process.
Combined with Executive Coaching
Research has shown that 360° Feedback combined with ongoing Executive Coaching is one of the most effective methods of leadership development. Our process includes one 1.5 hour personal coaching session that leaves the client with a comprehensive developmental plan.
Based on our Integral Leadership & Management Framework, our Integral 360° Feedback Process can be used with individual managers, incorporated into management development programs or rolled out as a development initiative throughout the organization.
We offer several 360° profiles, depending on your need.
360° Integral Leadership & Management Profile (LMP) for senior managers and executives
360° Integral Frontline Management Profile (FMP) for supervisors and managers
360° Integral Professional Development Profile (PDP) for non-managers
360° Leadership Development Profile (LDP) for the Public Sector
The Integral Leadership 360° Feedback Process will provide each participant feedback and developmental support as follows:
A professional feedback report summarizing the assessment data into strengths and areas of improvement
How the individual is performing along the Four major functions that define leadership and management effectiveness
Ratings on the Eight key leadership and management roles
An assessment of the 32 specific skills and abilities associated with leadership and management effectiveness
Twelve Authentic Self capacities that are the foundation for successful leadership
A summary of the skills and behaviours for which the participant scores highest and lowest
Open comments made by raters
A Development Workbook to assist with crafting a unique personal development plan and to capture specific action steps
A 1.5-hour coaching session focusing on the individual's path to higher performance
Additional coaching sessions (recommended) to help the leader/manager build and sustain higher performance capacities
At the core of our Integral Framework is the inclusion of 'Authentic Self' capacities. Extensive research has demonstrated that these capacities form the foundation of effective leadership and yet they are rarely addressed. Our Integral Framework is flexible and can easily be customized to include specific competencies for an organization's particular strategic challenges. Emotional intelligence questions can also be added where relevant. The online surveys take 15 – 20 minutes to complete.