"Greatness … is a matter of choice"

Jim Collins
Organization & Culture Transformation
Our Organizational & Culture Transformation Process provides a reliable assessment of where your organization is situated as a whole and the specific areas in need of improvement. Recommendations are provided with suggested actions that will enable your organization to move beyond its current level of performance by increasing its capacity in critical areas.
The Integral Organization Survey (IOS) is a key tool in our approach to helping organizations realize peak performance.  It provides a truly balanced scorecard of organizational performance.  It identifies your level of progress towards becoming a high-functioning organization that performs in a balanced way on the key measures of effectiveness, efficiency, culture and wellbeing comparable over time and with other organizations.
The Integral Organization Framework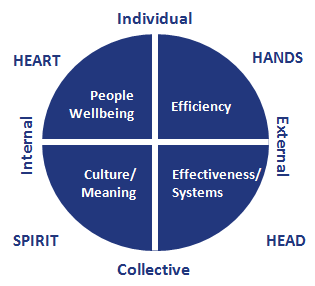 How Reliable is the Data?
The Integral Organization Survey has been used with over 20,000 participants in over 130 organizations covering a wide range of work. The standard questions, known as the Integral Organization Indicator (IOI), have been tested to ensure validity and reliability of results. Over 25 years of experience with the Survey has shown that the results consistently distinguish high performing organizations from low to moderate performing organizations with accuracy.
In addition to standard questions, additional customized questions can be included to address current issues for the organization. Demographic and open-ended questions are also included. These questions are tailored to gain further insight into what occurs in the organization.
What Will The Results Consist Of and Tell You?

An Performance Map of the organization
A professional report summarizing areas of strength your organization can build upon
Areas that need improvement
Whether the organization is improving in these areas over time